VISA® Prepaid Debit Cards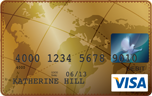 We have the perfect solution for every occasion! The VISA® Prepaid Debit Card from Schofield FCU is the perfect way to help you manage your spending. Find the VISA® Prepaid Debit Card that meets your specific need. Use wherever VISA® Debit Cards are accepted worldwide, as well as online and at ATMs.
VISA® Gift Card - The perfect "one size fits all" gift for family and friends for any occasion. This prepaid VISA card hits the "Bulls eye" every time. You choose your gift from $10 up to $1000. Your celebrant will welcome this gift.
VISA® Reloadable Card - Just as good as a Debit Card. You can't overspend or overdraw this account. Great for college bound students. Good budgeting tool and can be used like a debit or credit card. When you reload the 2nd time you will receive a personalized card.
Features:
Accepted at millions of retail locations
Spend only as much as you load
Track & manage your spending online
Check your balance
And much more!
Call (808) 624-9884 for more information.
Go to main navigation