APRIL IS NATIONAL CREDIT UNION YOUTH MONTH!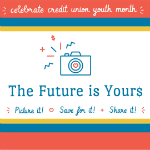 Schofield FCU is celebrating Youth Month, which is a program that helps teach and encourage kids to develop good financial habits. The theme this year is "The Future is Yours…Picture it! Save for it! Share it!"
Join Schofield FCU and credit unions around the nation to encourage our youth to start saving money they earn so they can attain their dreams for the future.